Storytime Mega Bundle
MOONLITE STORYTIME PROJECTOR + 10 SINGLE STORIES
The Storytime Mega Bundle uses ambient music, playful sounds, and big, bright storybook images to tickle your child's senses. Moonlite Storytime creates a magical and unique bonding experience that children love, and parents look forward to, story after story.

Explore 10 remarkable stories from The World of Eric Carle, Penguin, Random House, Little Brown Company, and Moonlite's Fairy Tales. Each story contains a picture disc and activation code that downloads the content onto your smart device with the Moonlite Projector.



Storytime Mega Bundle Includes:
● Moonlite Storytime Projector
● Diggersaurs
● The Tortoise and the Hare
● Eric Carle The Very Hungry Caterpillar
● Corduroy
● Duck & Goose
● There Was an Old Dragon Who Swallowed a Knight
● We're All Wonders
● Uni the Unicorn
● Wherever You Go
● The Little Engine That Could
Age: 2-6
Make storytime together time, with the Storytime Mega Bundle!

● Immerse yourself in the magic of storytime with the Moonlite Projector.
● 10 Moonlite stories will captivate your heart and imagination.
● Picture discs project vibrant storybook art onto the walls and ceiling of your home.
● Each story contains an activation code that downloads the content onto your smart device – stories on the go!
● Perfect for bedtime stories, traveling, family bonding, and creating cherished memories.
STORIES INCLUDED:
Diggersaurs
What's bigger than a digger?  Bigger than a dinosaur? DIGGERSAURS are bigger - see them build and hear them ROAR!  This rhyming mash-up of dinosaurs and trucks will delight young dino fanatics and construction fan alike!
The Tortoise and the Hare
This is  a classic fable where a boastful hare challenges a slow-moving tortoise to a race. The hare, confident in his speed, takes a nap during the race, while the persistent tortoise keeps moving steadily. In the end, the tortoise wins the race, teaching us the valuable lesson that "slow and steady wins the race," highlighting the importance of consistency and determination over overconfidence.

Eric Carle's The Very Hungry Caterpillar
Eric Carle's classic story begins one sunny Sunday, when the caterpillar was hatched out of a tiny egg. He was very hungry. On Monday, he ate through one apple; on Tuesday, he ate through three plums–and still he was hungry. Strikingly bold, colorful pictures and a simple text in large, clear type tell the story of a hungry little caterpillar's progress through an amazing variety and quantity of foods. Full at last, he made a cocoon around himself and went to sleep, to wake up a few weeks later wonderfully transformed into a butterfly!
Corduroy
A little girl named Lisa falls in love with a little brown bear wearing green overalls with one button missing. Adventurous, imaginative, and always optimistic, Corduroy offers up wit and wisdom that will bring a little bit of sunshine to readers of all ages.
Duck & Goose
Meet Duck and Goose, two young birds who mistake a polka-dot ball for an egg and have to master the art of cooperation—and sharing—to take care of it. But friendship is not always easy, as proved in this funny, accessible story. Young readers will instantly recognize themselves in these adorable and eternally optimistic characters.
There was an Old Dragon who Swallowed a Knight
Meet the old dragon who swallows pretty much an entire kingdom! Will he ever learn a little moderation?! This rollicking rhyme is full to bursting with sight gags, silly characters, and plenty of burps! Parents and kids alike will delight in the funny illustrations and wacky rhymes.
We're All Wonders
Younger readers can meet Auggie Pullman, an ordinary boy with an extraordinary face, and his beloved dog, Daisy, in this story based on the New York Times Bestseller, Wonder, which taps into every child's longing to belong. This story teaches children to always choose Kind. 
Uni the Unicorn
In this clever twist on the age-old belief that "unicorns don't exist," Unicorn The Unicorn learns there's no such thing as a little girl! No matter what the grown unicorn says, Uni thinks little girls are real. Somewhere there must be a bright, strong, wonderful, magical little girl waiting to be best friends. In fact, far away (but not too far away) a real little girl thinks a unicorn is waiting for her. 
Wherever You Go
Roads give you chances to seek and explore.
Want an adventure? Just open your door.
Join an adventurous rabbit and his animal friends as they journey over steep mountain peaks, through bustling cityscapes, and down long, winding roads to discover the magical worlds that await them just outside their doors.
The Little Engine That Could
The Little Engine That Could is a classic tale of the little engine that – despite her size – triumphantly pulls a train full of wonderful things to the children waiting on the other side of a mountain. The kindness and determination of the Little Blue Engine has inspired millions of children across the world.
How it works
Open the Moonlite App
How it works
Clip the projector to your phone (see supported devices)
How it works
Pop a story disk into the Moonlite Projector
How it works
Begin projecting and start your magical storytime!
AN IMMERSIVE READING EXPERIENCE
In-app sound effects complete the magical effect of your bedtime storybook projector experience; as kids listen to the stories, they'll develop their language skills, creativity and a love of reading and learning.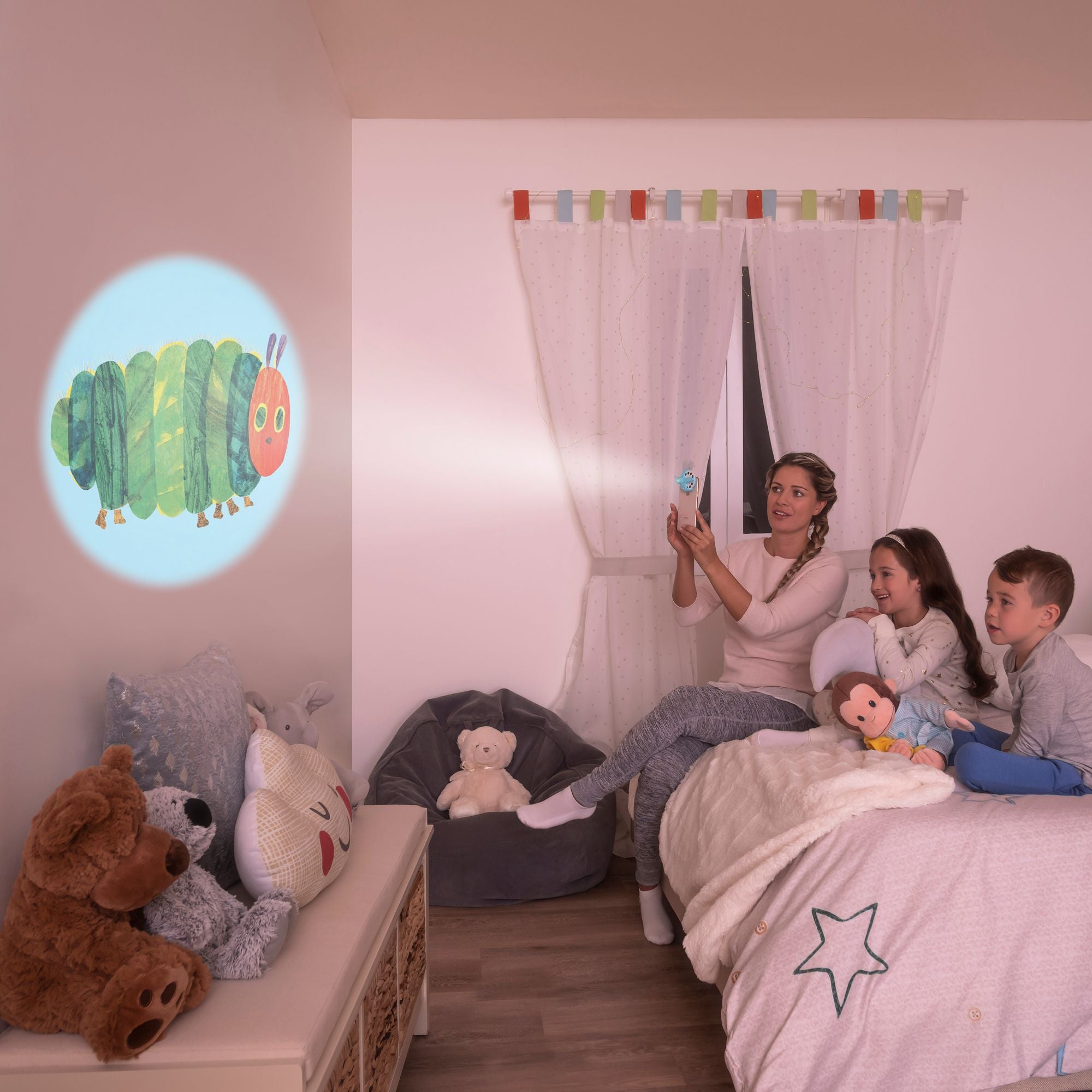 THE STORY COMES ALIVE WITH MOONLITE!
Clip the easy-to-use projector onto your smartphone (not included), slide the Moonlite's Picture Disc and project vibrant images onto any surface! Moonlite is lightweight and small enough to carry with you wherever you go.
DEVELOP A LOVE OF LEARNING
Adored by children and adults, award-winning Moonlite and the Picture Discs create an immersive reading experience that instills a love of learning at a young age. As kids follow along to their favorite stories, they develop their imagination, creativity, and language skills.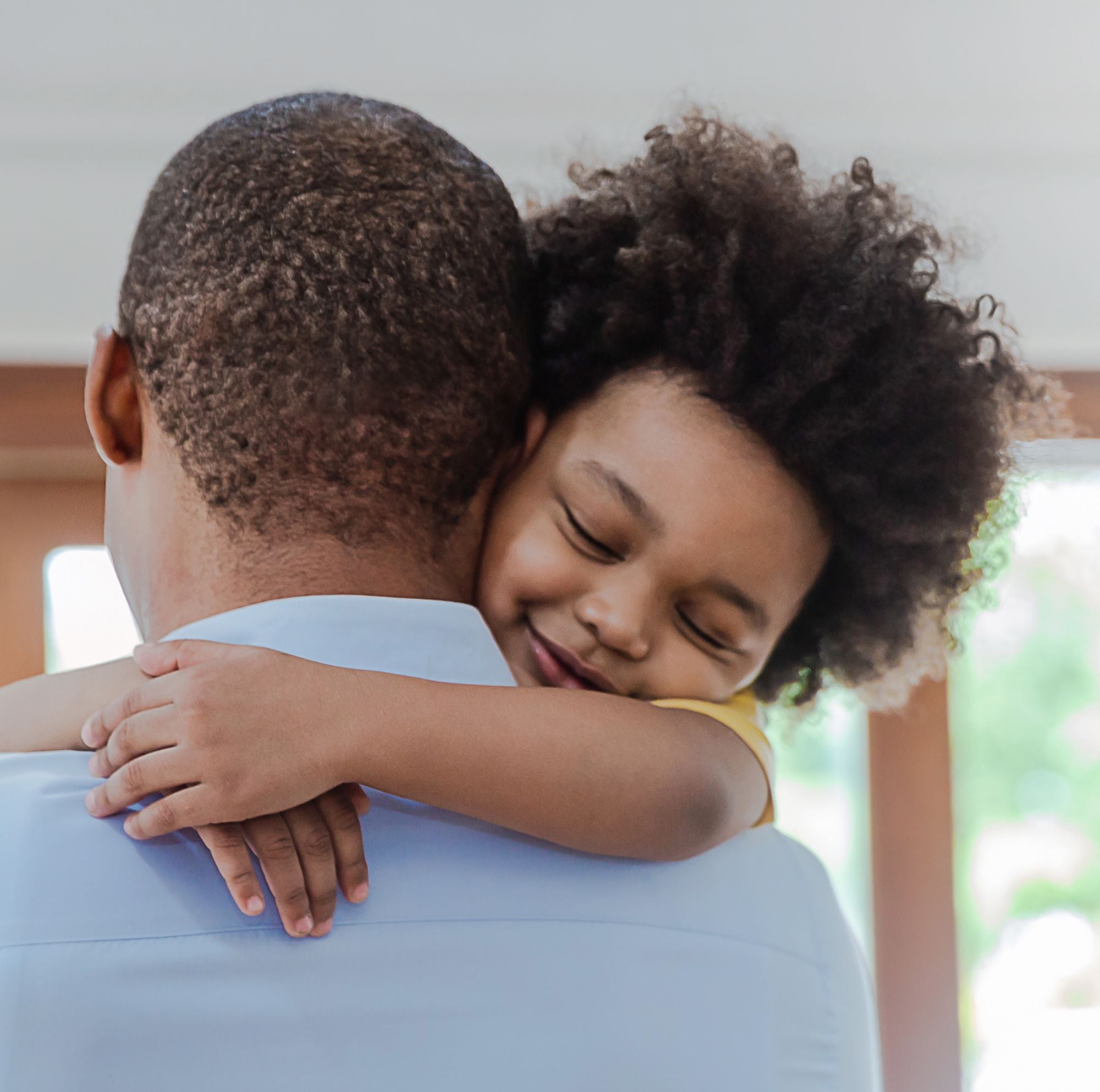 PARENTS ARE THE STORYTIME HEROES
Your kids will love to cuddle up as you read them the bright, colorful stories projected on the wall from your phone.
Finally … A Winning Bedtime Routine
I could never get my kids to go to sleep until I discovered Moonlite.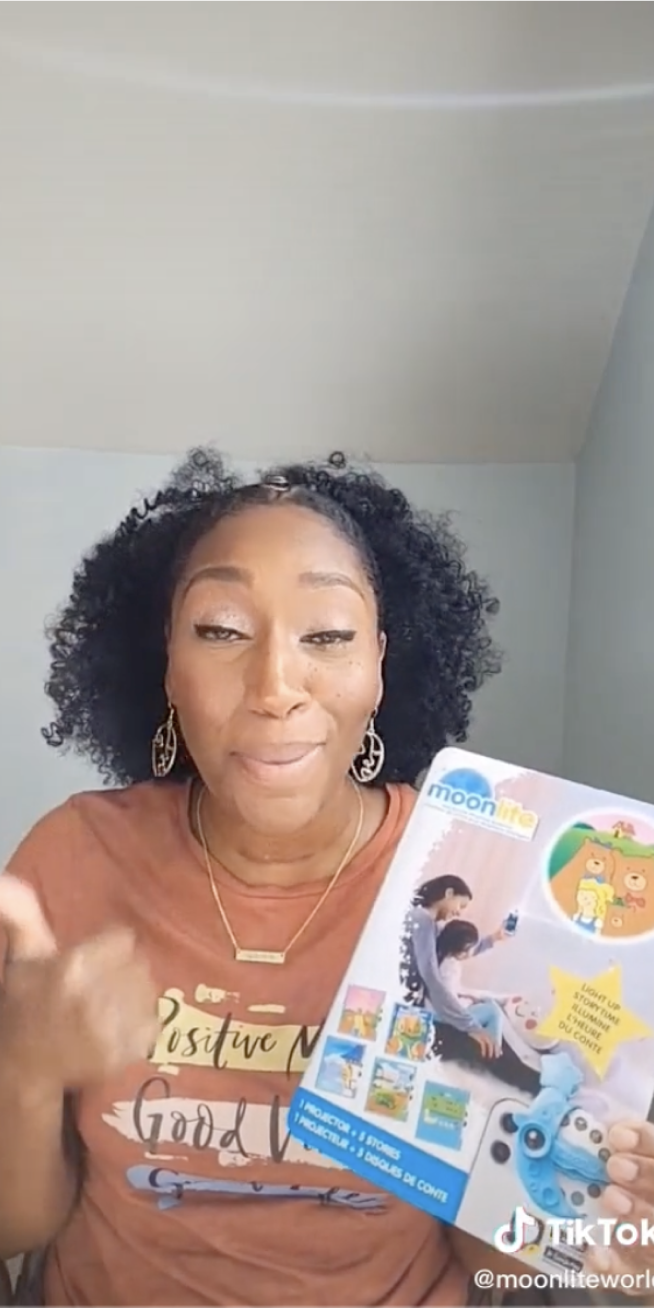 What is included in the Story Details?
The Story Details include a summary of the book, author and illustrator details, and copyright information.
How do I turn the sounds on/off?
They cannot be turned off. There are 3 sounds to choose from, or turn your phone volume off or all the way down.
What do I do if I still cannot hear any sounds?
Turn your phone volume up.
How do I adjust the brightness?
Open your story and then press the sun icon in the lower left corner. Then, adjust Screen Brightness & Projection Brightness.
What does the blue circle around the text mean?
That indicates the story word that has a sound. Press the word to hear the sound.
Press the screen and then the X button in the top left corner to exit the story.
SUBSCRIBE & SAVE
New stories delivered to your door every month.
Save $
Get stories delivered to your door every month.
Free Shipping
Track your order online.
Flexible
Easy to skip a month or cancel.